Latest Farm News
Dundee Farm's Studs
Standing at Alpaca Palace
Summer and

Fall 2016
Zamboni, The Lad, Piper, and The Rock will be standing at Alpaca Palace in Butler, Pennsylvania, this summer and into the fall. Alpaca Palace is one of the premier alpaca farms on the east coast and features Houdini among other stellar studs on their farm. You may have seen that they are hosting a new auction in Pennsylvania this October.
We are pleased to be working with Alpaca Palace to bring new genetics to the their farm and the east. Dundee Farm created its stud program to introduce rare and proven males for farms wishing to broaden their genetic spectrum and introduce hybrid vigor to their seed stock.
All of Dundee Farm's males have proven themselves in the show ring and through their progeny. They have multiple Champion and Reserve banners and so do their progeny. Beyond the show winnings, these studs are producing healthy, large-boned alpacas with correct conformation and stunning fleeces.
Examples of fleece histograms include:
The Lad's Soldier of FLR (5 yrs): AFD 16.0,SD 3.6, CV 22.7, > 30 0.5
MMC Matrix Sahara by Zamboni (3 yrs.) AFD 17.6, SD 3.0, CV 16.9, >30 0.7
Dusty's Sir Tristan (Piper) (1 yr.): AFD 16.0, SD 3.7, CV 22.8, >30 1.1
While we miss our boys in Dundee's pastures, we are thrilled that they have the opportunity provided by Alpaca Palace. We have the utmost confidence in their herd and health management program. The Dundee studs give eastern breeders the opportunity to add new and proven genetics to their herds.
Sara Jane Judges in Melbourne
Sara Jane judged the 2015 Royal Melbourne Alpaca Show in Australia along with Judge Jenny Jackson. Sara Jane was impressed with the show, its organizers, and the caliber of alpacas that came into the ring.
Hugh and Sara Jane then explored Melbourne, Sidney, and Tasmania as well as visited Canchones and Wyndhym Hill Alpaca farms. Hugh caught up with some school friends and his cousin Rosa and family.
Canchones Alpacas, Peter Kennedy and Robert Ganes' farm was particularly impressive and they were fine hosts. We got to stay in Shirley Grant's home and explore the hundreds of acres of the farm that has 450 alpacas. With no predators about, the alpacas can have much more freedom than they do in America.
Canchones Alpacas northeast of Melbourne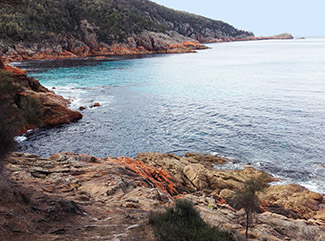 The east coast of Tasmania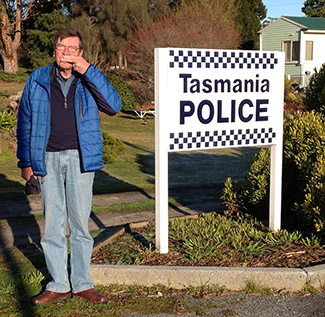 Hugh doing his best Charlie Chaplin imitation.
We had a fine time and loved Australia... the land and the people were a joy. We hope to go back someday for a longer visit and to explore a bit more.
Sara Jane would like to thank the Royal Agricultural Society of Victoria for asking her to judge their show.
Dundee's Stud Farm
Dundee Farm is now strictly a stud farm. In 2012, after 15 years of breeding seed stock, producing exceptional crias who went on to garner top prizes and championships, we sold our females and crias to exceptional farms and now concentrate on our studs, judging, evaluating herds, alpaca selection, and conducting seminars. (See the alpaca male page for more details.)
We have 4 studs from Dundee Farm's production and 2 more from other successful programs that we own in partnership with Chimera Ranch. This has been an interesting venture in that we can only be successful if our clients are successful with the crias they get from our program.
Our clients have received top honors in their show ring classes with some going on to become champions. Here are our boys.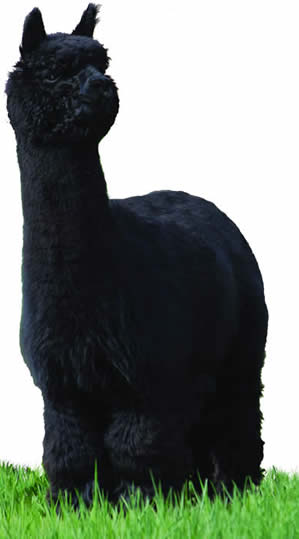 Dundee's The Lad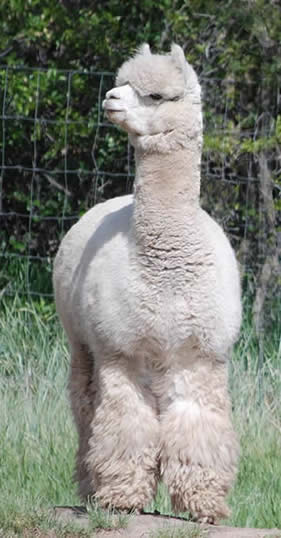 Zamboni of Artic Ice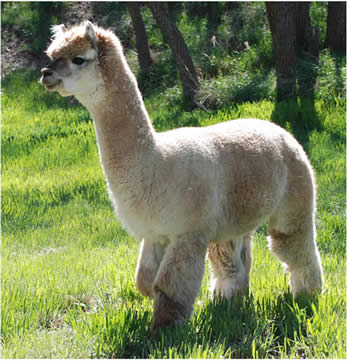 Dundee's The Rock of Adrenalin
Ricky comes to Colorado
July 2015
In search of the next great stud for our program, we partnered with Chimera Ranch and went in search of a promising young male of exceptional quality.
After much searching, we chose Alpaca Palace's King Richard at the tender age of 8 months. It will be a while until we are certain, but we are excited by what we see so far. His conformation and fleece are outstanding and he fits with the goal of introducing new bloodlines of rare and proven genetics to the west. Stay tuned.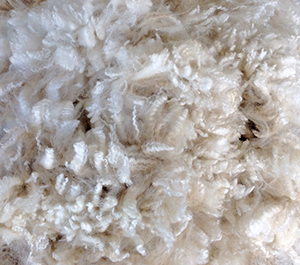 Ricky's Fleece
Julian's 4th Birthday Party
May 2015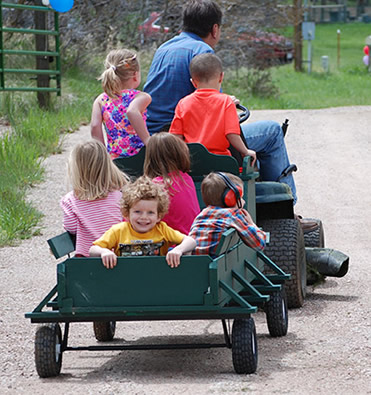 Wagon rides were a big hit.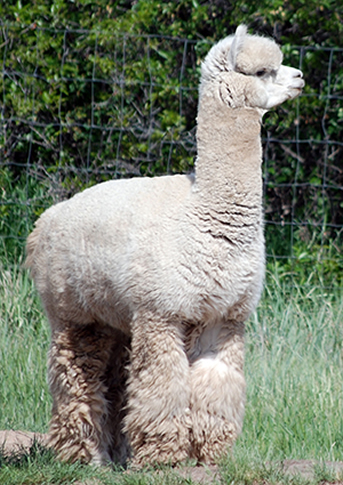 Four time White Male Color Champion,
Zamboni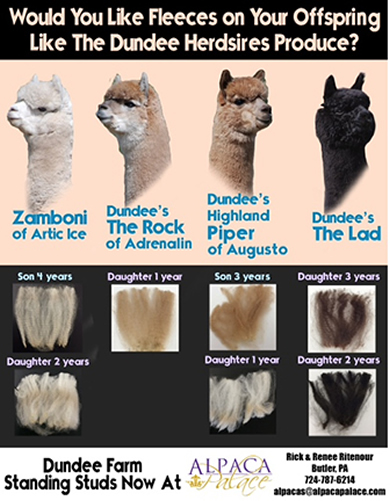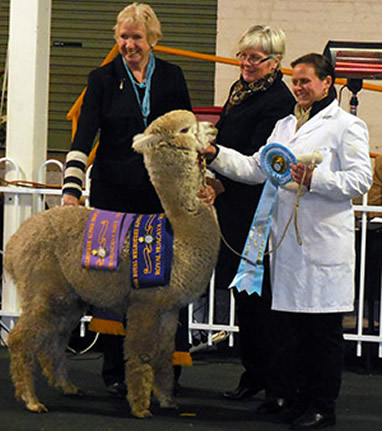 Sara Jane and Australian Judge Jenny Jackson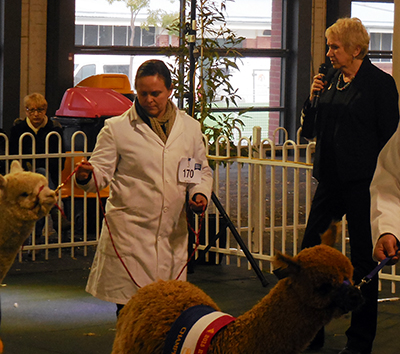 Sara Jane giving oral reasons for the alpacas' placements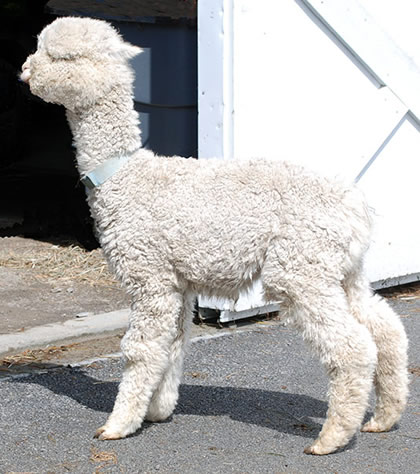 Alpaca Palace's King Richard aka Ricky
our latest acquisition in partnership with Chimera Ranch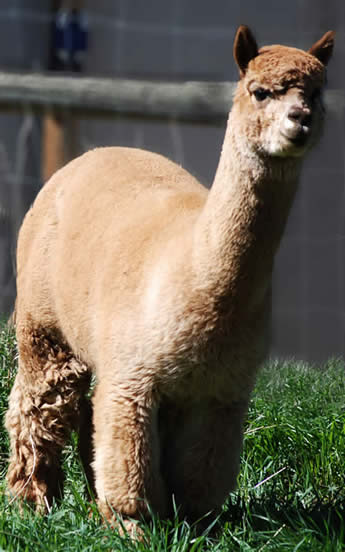 Dundee's Highland Piper by Augusto

Snowmass Golden Sentry
in partnership with Chimera Ranch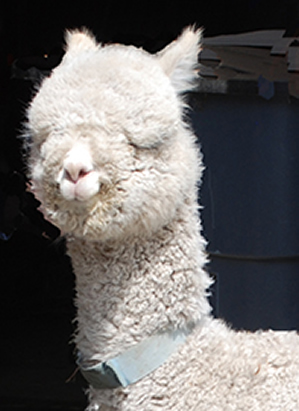 Ricky at 8 months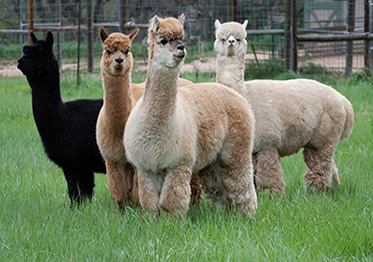 The boys stick together as visitors come out to see them.
Zamboni - The Elite White Male
Zamboni took his first Championship at 8 months of age at a large show amidst the stiff competition found in white male classes. His second championship came when he was 18 months.
At TxOLAN's 2011 show, Zamboni took his third White Male Color Championship! In a competitive class and competitive group (When the whites come out - let the wars begin!), Zamboni won over very impressive males. He then went on to win more awards and another Color Championship, making a total of four. He is now retired from the show ring and is producing exceptional crias.
Zamboni's crias are old enough to be in the show ring and they are landing at the top of their classes - some have become champions. Check out the Alpaca Male page for more details.

Zamboni's 4th fleece: so bright it is hard to photograph.
The fleece is very long with consistent crimp from skin to tip.
Zamboni is retaining his fineness and is exceptonally dense.